Optimising your Amazon listings for mobile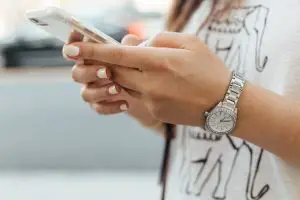 Amazon announced last week that they are now including Mobile App page views in their business reports. Why it's taken so long to include such a vital part in their reports we don't know, especially considering 82 billion hours were spent on shopping apps in 2020. Now we can finally compare the results with desktop browsing, it's clear that optimising your Amazon listings for mobile is more important than ever.
The difference in page views between the mobile app and the desktop is quite significant. Take a look at two examples below.
So how can you start making the most of the app and begin optimising your Amazon listings for mobile?
1. Product title
Only the first 80 characters of the product title are shown on the Amazon mobile app. You need to make sure you get across exactly what your product is, answering the search of potential customers, right at the beginning.
2. Bullet points
The bullet points are one of the first sections of information that visitors see in the mobile app. Tempting as it is to write the bare minimum, or skip them altogether, why waste a prime selling and optimising opportunity. Use those bullet points to their full potential! Well-written and informative bullet points show each customer immediately how your product is the answer to their problem and make you look more professional. For more ideas, take a look at our tips on creating a killer Amazon listing.
3. Images and infographics
Images follow the bullet points on the mobile app and appear very large, taking up the majority of the screen. Aside from ensuring the quality of your photos is top notch, it's a good idea to include infographics in your images. People are more likely to read short snippets presented within a visual rather than larger blocks of text.
4. A+ Content
Following the bullet points on the mobile app is the A+ content, all before you even reach the product description. A+ Content is an extra, swanky marketing tool available to those who are part of the Amazon Brand Registry. It has a polished, professional feel that really stands out, especially on the mobile app. It's a lot more visual, colourful and can improve your sales by up to 5%.
The product description doesn't appear until after the A+ Content. The chances of visitors scrolling all the way to the bottom of your product listing are slim, but it's the perfect place to pop in those all important keywords. You should still make this section a clear, thorough description, making the most out of the word count and opportunity to improve the optimisation of your Amazon listing.
5. Sponsored video ads
It's no secret that video marketing is on the rise and search engines regularly prioritise videos over images. Doing a search on Amazon will often put a sponsored video advert near the top of the search, taking up 65% of the phone screen. As 80% of marketing experts have claimed that using video has directly increased their sales, we highly recommend it an avenue that you look into.
If you still need convincing, we've put together some reasons why you should get on board with video marketing.
It's quite simple optimising your Amazon listings for mobile really. Knowing the layout of an Amazon listing on the app means you can see which parts customers will see first and make the most of the content spaces offered to you.
If you need a little extra help or pointing in the right direction, we're here to help. Get in touch today!