How AI is reshaping marketing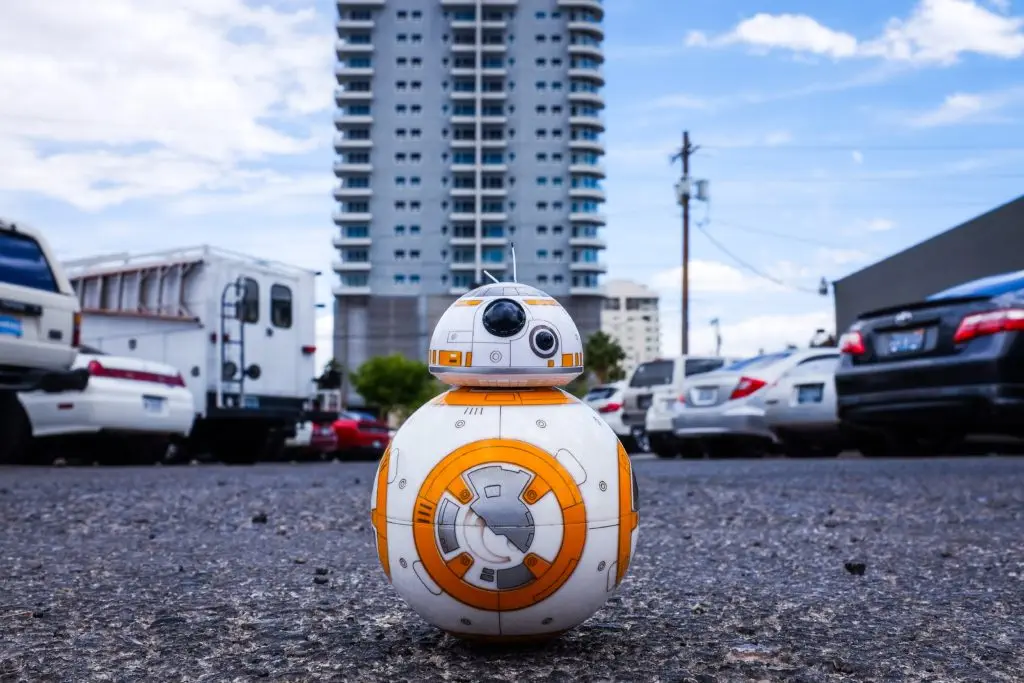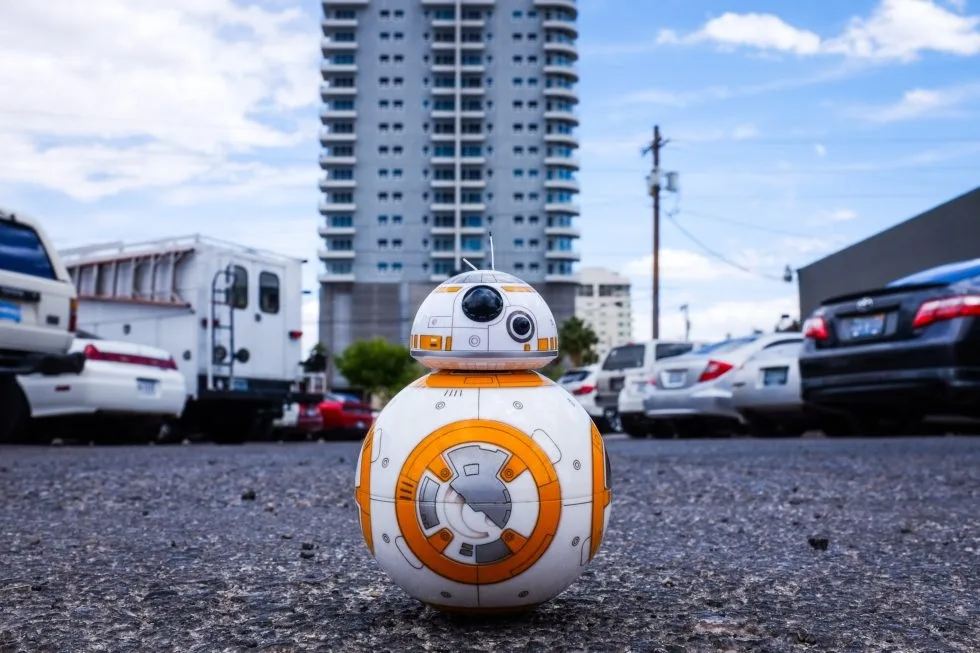 Artificial Intelligence continues to progress in incredible ways. The ultimate goal of AI is to assist us in some way – assist with tasks, with development and with knowledge. But despite our growing excitement in the benefits of AI, there's always the argument that technology could end up replacing humans. That's the real question – will it? We may not be as far as entering our iRobot era yet, but businesses have already been adopting the latest AI in marketing for years. So how has it helped lift businesses to new heights without completely taking over?
What is AI marketing?
AI marketing uses artificial intelligence technologies to improve marketing strategies. It's estimated that 80% of industry experts use some form of AI in their online marketing activities, valued at $327 billion in 2021. AI can observe economic and audience trends, analyse and collect data, and make automated decisions and predictions to improve the customer experience. It does all the work of a marketing team in less time, freeing them up from the time-consuming manual tasks so they can put their efforts in other places. Nowadays, AI can even create content for you. Keep reading to find out more.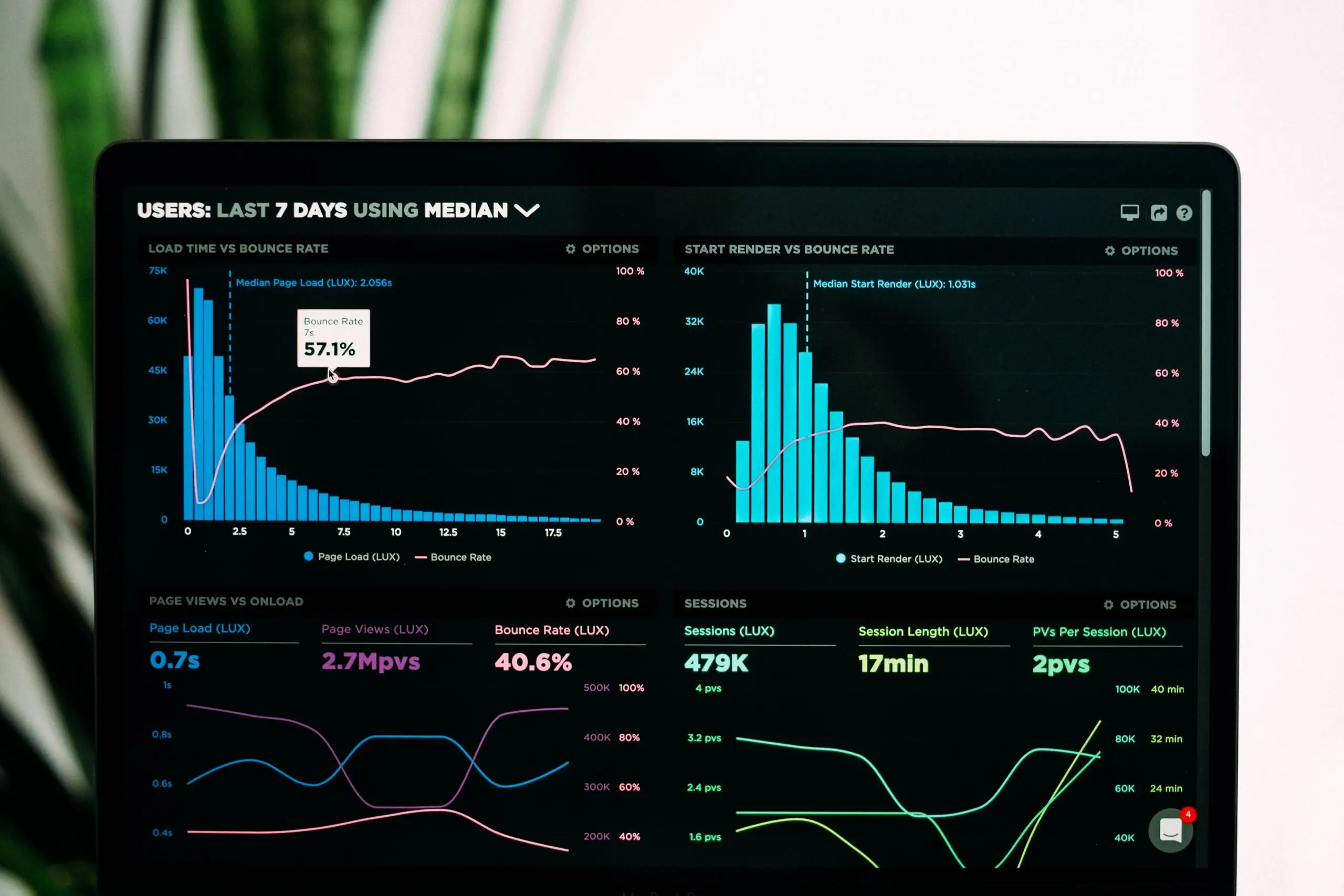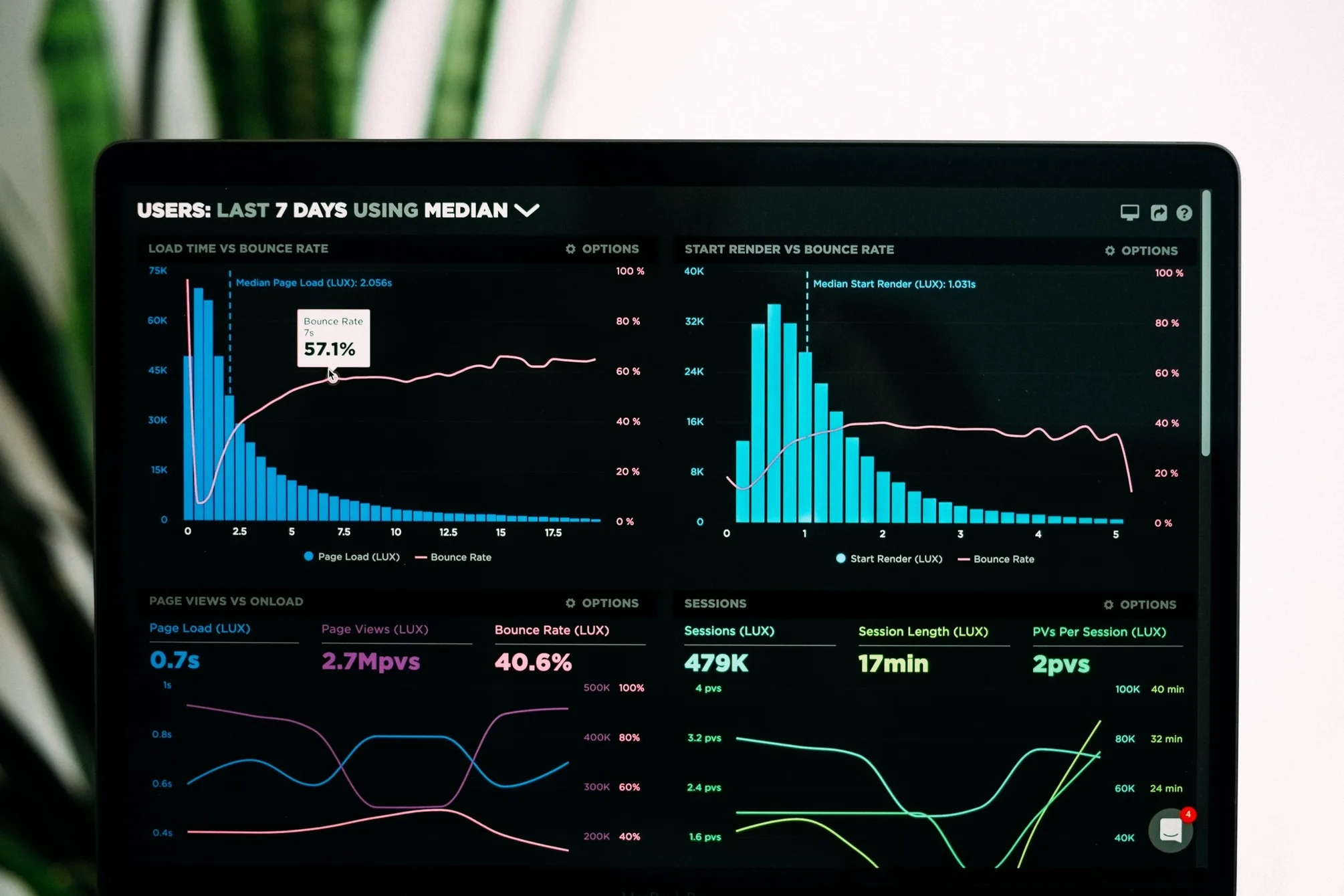 What types of AI marketing are there?
AI can be used in a number of ways to benefit businesses.
1. Data Analysis
Probably one of the most common AI tools in marketing, artificial intelligence can collect and analyse huge amounts of data from campaigns, programs, search engines and more. Statista found that roughly 50% of respondents in a recent survey used AI for ad targeting. This can come from an analysis of customer data, search habits and from previous ads and campaigns so businesses can best utilise their marketing efforts and budget. This time-consuming task becomes much faster and often more accurate with the use of AI. There's less room for human error and users can access the exact data they want at the click of a button. Marketing teams can use the data to create new strategies and enhance productivity, or combine it with further AI to help sell products.
2. Automated decision-making, predictions and personalisation
AI can be used as a self-learning tool, using data analysis to quickly and efficiently make decisions on behalf of marketing teams. These can be presented to marketers to help them make decisions on the next steps to take, or can be implemented automatically.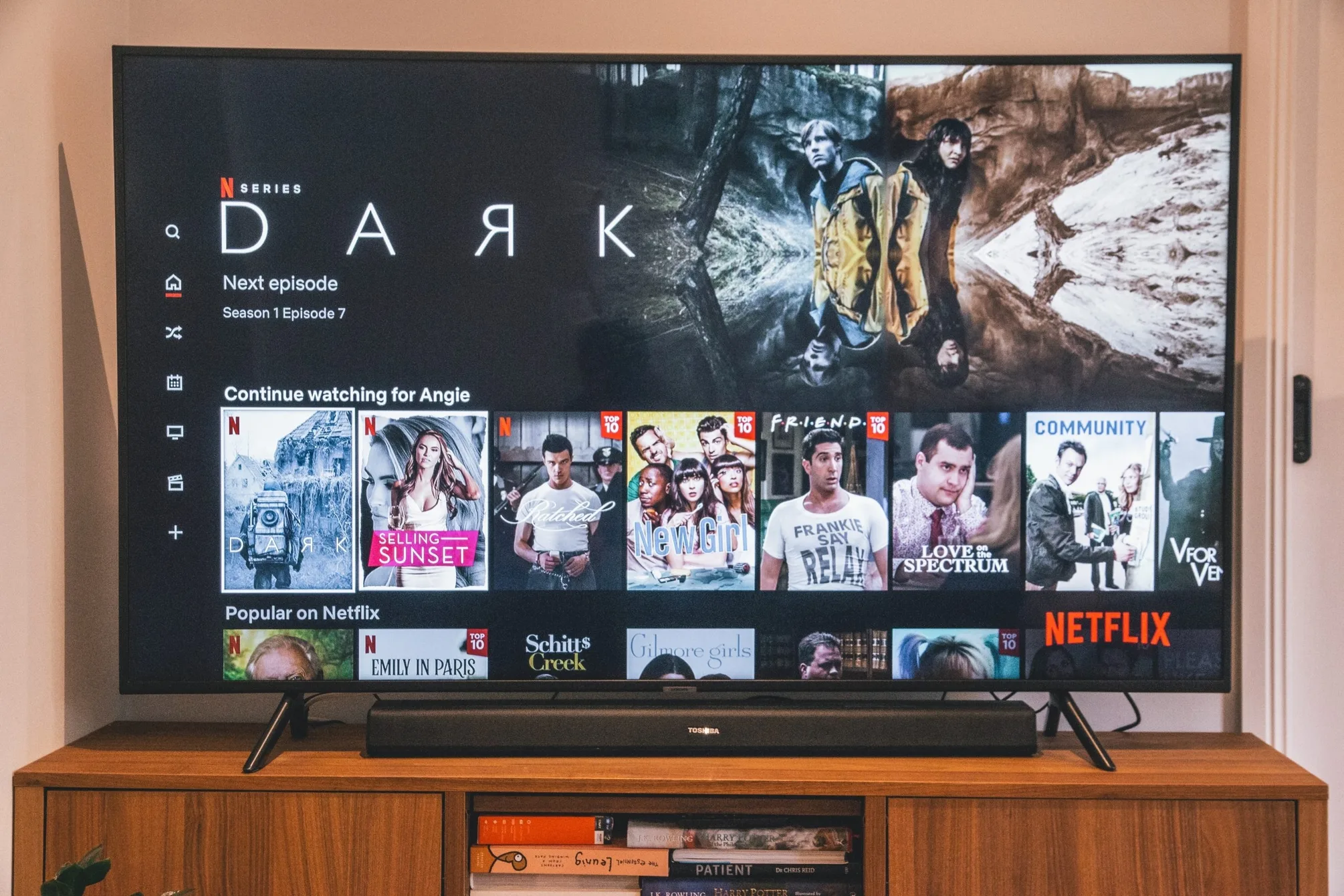 Take Netflix for example. For the last decade, they've been using AI technology to analyse programs and searches that their customers perform. Their AI then automatically predicts other films and shows that users may enjoy, presented as 'suggested for you'. Generally, if it takes more than 90 seconds for a customer to choose a program to watch, the chances are they'll bail. Netflix wanted to decrease their bounce rate and cancelled subscriptions by offering a more personalised service. By using AI, they've done just that, allowing them to reach their target audiences, improve the customer experience and collect plenty of data to improve their business along the way.
Another example is Amazon's A/B testing tool. Sellers can try out two different product titles at the same time and Amazon's AI technology will analyse the customer responses. It collates the data for you to show which title was most effective during your allocated time period. Sellers can then decide whether to go ahead with the winning title based on the results. This gives users the opportunity to maximize their marketing strategy ROI. Integrated machine-learning technology is a really powerful tool to use and we all know Amazon would love to be the front runner in AI use.
3. Content creation
A common use of AI is applying it to human-like content creation. That includes anything from video captions to email subject lines, web copy, blogs, even real-time responses to customers. We've all, at some point, spoken to a chatbot, for example. They've saved businesses so much time on customer service. The only trouble with a chatbot is it's not particularly personal, and if it gets beyond the basic questions and needs of a customer, it kind of reaches it's limit.
With developments in AI technology, it's able to use Natural Language Processing (NLP) to be as human-like as possible. Customers want to feel valued, like they're getting a personal service. The more human AI can seem, the more beneficial it will be in the long run – and it looks like we might be heading in the right direction.
ChatGPT
OpenAI launched ChatGPT at the end of 2022. Essentially it's a chatbot – but not your everyday one! It uses NLP to create scarily human responses and is probably the most accurate chatbot that's been released so far. It goes beyond the basic responses that most other services can offer. But how can it be used in business?


ChatGPT can potentially give business advice to help solve simple issues, give you ideas for content or even write a full blog or essay for you (though that may be slightly frowned upon in wider circles). We've been able to translate text accurately into other languages which is really helpful, and cost-effective, for selling products on a global scale. We're sure it won't be long until ChatGPT can be integrated into business models to improve customer service.
Synthesia
Another really exciting development is AI in video. This is Synthesia, a video generation platform that uses AI to create videos.
We know that videos have become a much more preferable marketing tool over the last few years. Algorithms prefer it and subsequently your business or products are more likely to be seen if you use videos in your marketing. The trouble is, video production can be expensive, especially if you're just starting out. Synthesia uses AI avatars that are digital twins of real actors. You simply type in the text you want read and the AI avatar will say it for you. It can include closed captions, you can have text and images sliding in like a presentation, and can even create videos in different languages. You get a professional, polished video in minutes in a cost-effective way, just by using artificial intelligence. How cool is that!
Midjourney
There are developments in image creation as well that are something that can really enhance a business' content. Midjourney is a research lab that's currently exploring AI, design and human infrastructure. They have an image creator in Beta on Discord (head to the website to see what we mean) where you can type in the things you want in an image and it will create a high-quality image for you in seconds. You can even say the type of tools you want it made of, such as oil paint, chalk or anime. The more specific you are, the more useful and unique your image. For example, we searched for 'a female photographer taking a photo at a wedding outside in the bright sunshine with an old run-down building behind, flowers in a garden in the background'. This is the result it produced.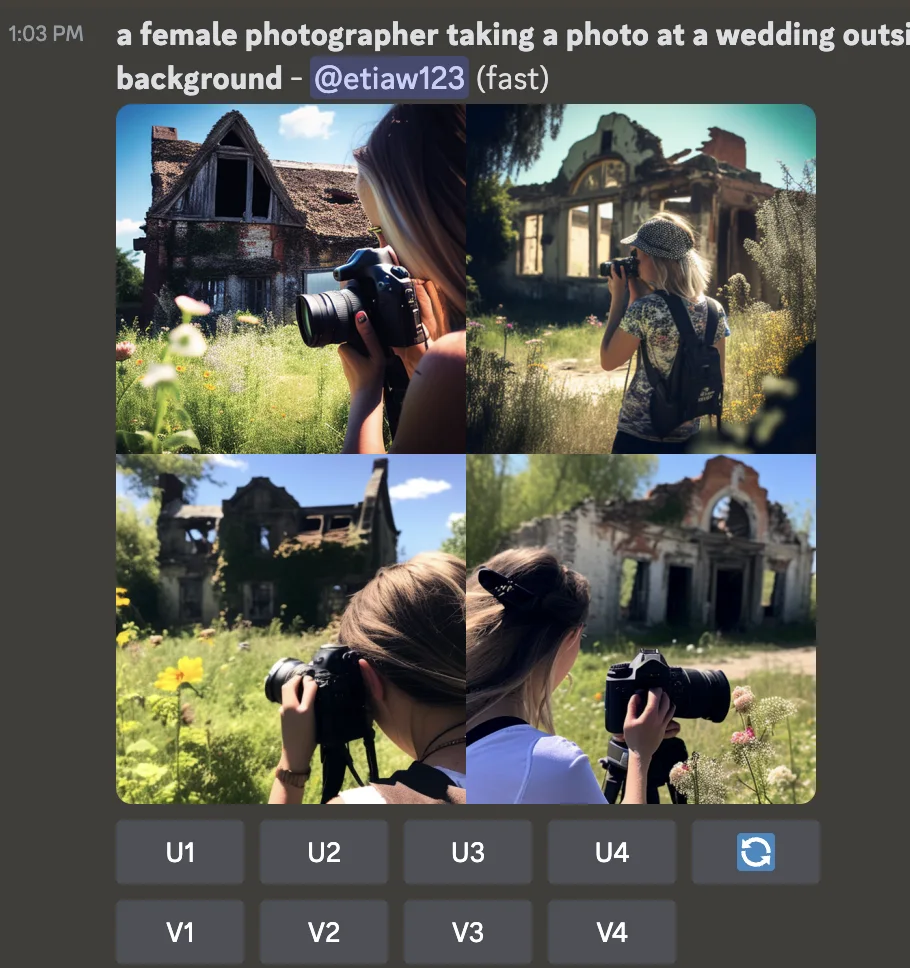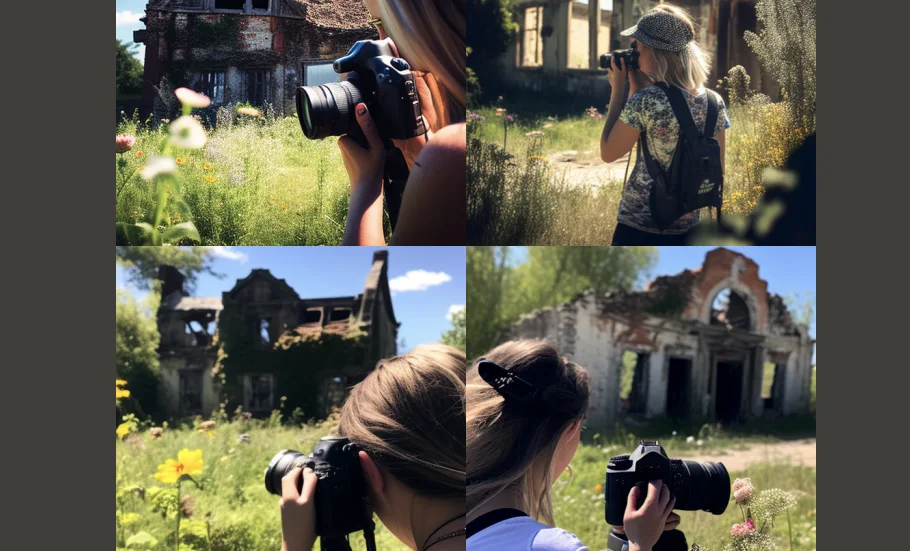 If you don't like the image, you can just refresh and it will produce another for you – all with AI. It's so clever but imagine the time saved and how it will affect the overall quality of your work. It's an invite-only tool at the moment, but it may become more readily available in the near future.
What can these tools do for your business?
When you combine all these AI tools in your marketing, there are some real chances to maximise your sales and ROI. Not only that, but the quality of your content and business can sky rocket. Amazon uses a combination of data analysis, predictions and content creation to create personalised upselling and cross-selling opportunities. The 'customers who viewed this item also viewed this…' is a hugely successful way of using AI in marketing. Online flower retailers such as Bloom & Wild, or card businesses like Moonpig, always offer a special time-limited discount immediately after you've made a purchase. This is all done by AI analysing customer's journeys to ultimately increase sales and return purchases.
Will AI replace humans in marketing?
There are always concerns that the development of technology will put humans out of work. Despite the hype, AI can still only accomplish narrow tasks, not run an entire marketing function or process. Plus, whilst it may take away some jobs, inevitably AI opens up new opportunities. We think any agency or business has to look at it with an open mind. AI is not set to replace anyone, but rather be managed by humans. If left to its own devices, the variables or attributes used could end up being inconsistent. It's a great upskill opportunity for people who work in marketing to see how they might use AI to help improve a brand.
From a customer perspective, people are always worried about how their data is being used. Are our phones listening to us? Almost certainly – but it seems concerns about AI applications, like Alexa for example, are dwarfed by the appreciation of the benefits they bring. People want to try new technology. They want it to help them.
So where is AI heading next? Who knows, but we're excited to find out.
Keep up to date with all the latest news in our blog.